Cat House
The Solway eco cat house is made from 100% recycled plastic this makes the eco cat house scratch proof and very long lasting.

The cat house may be moved inside or our giving your beloved pet access to outside and shelter from the sun on a very hot day.

The eco cat house is rot proof being made from recycled plastic it will last for years without requiring any treatment for the weather leaving you more time to spend with your pet rather than on repairs.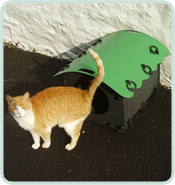 Cat House
£41.70 (exc. VAT)
£50.04 (inc. VAT)